Our Mission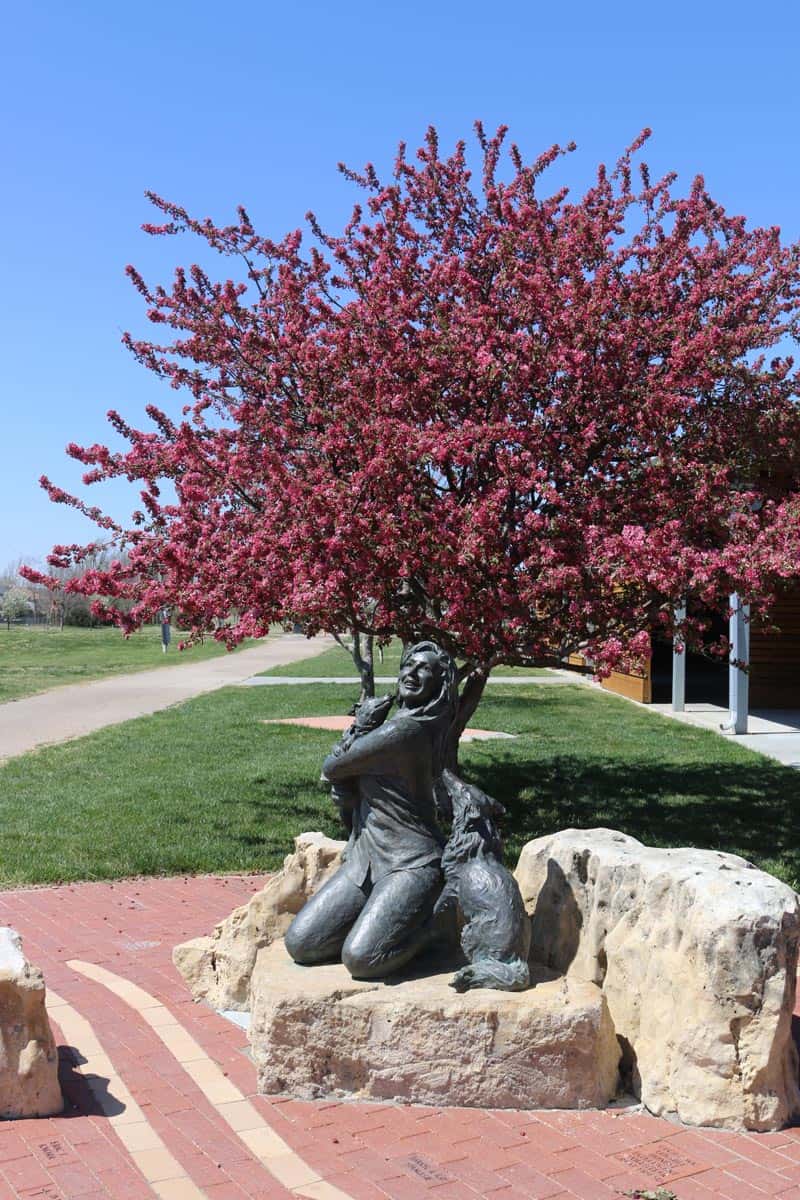 The mission of Prairie Travelers is to develop, maintain and promote the Prairie Sunset Trail. Our vision is that the Prairie Sunset Trail connects neighbors and communities; promoting healthy, active lifestyles, stewardship of nature and appreciation of the region's history. Prairie Travelers is an all volunteer non-profit, and is the cooperative effort of residents, local trail groups and outdoor enthusiasts dedicated to expanding recreational opportunities in the region through the development of rails converted to trails.
About Prairie Travelers, Inc
Many of our ancestors settled Kansas by traveling in covered wagons over historical trails such as the Santa Fe Trail and later on steam railroads. That is why Prairie Travelers, along with other state rail to trails groups, proposes to establish a network of linear trails and other recreational trails in Kansas. A resolution passed by the Kansas Legislature in 1991, authorizing the creation of a Statewide Heritage Trails Plan.
Prairie Travelers is the trustee holding title to the 8 miles of railbanked trail near Garden Plain, KS in southwest Sedgwick County. The "Prairie Sunset Trail" extends from 295th street west to 167th street west. Notices of Interim Use were issued by the Surface Transportation Board under the authority of the National Trails Act (http://www.nps.gov/nts/legislation.html) to Prairie Travelers. Rail-trails are corridors railbanked under the authority of the 1983 amendment of the National Trails Act. They are considered out-of-service corridors, protected for future national need, which are in the interim available for recreational use.
The Prairie Sunset Trail extension from 167th St W to Hoover Rd (by the Big Ditch) was built with an agreement with the City of Wichita and Sedgwick County in 2015 to complete the trail into the City for commuting and recreational needs, making the Prairie Sunset Trail 15 miles in length.
Prairie Travelers, Inc is a non-profit, 501(c)3 organization.
---

AmeriCorp NCCC volunteers made were here for 13 weeks helping us with trails on both sides of town! It was a lot of work but a great deal of progress took place and they were a lot of fun!
Unicycle rider review of the Prairie Sunset Trail
Click here to visit our Facebook page
T-Shirts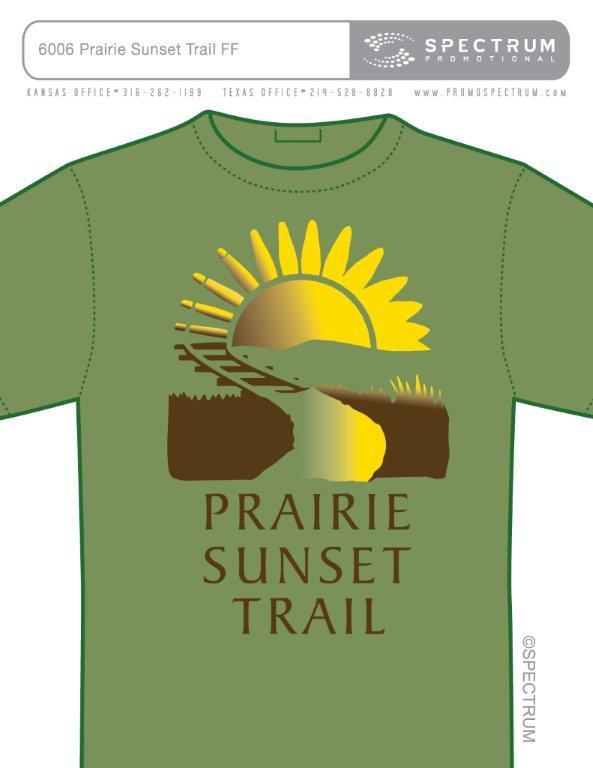 Show your spirit! The proceeds of all t-shirt sales go directly to Prairie Travelers' mission. The t-shirts cost $15.00 each and come in both men's and women's designs.
The Prairie Sunset Trail t-shirts above are available by emailing us.
Contact Information
President
Larry Hatfield
lhatfield6@gmail.com
Secretary
Ruth Holliday
prairietravelers@yahoo.com
Mailing Address
Prairie Travelers, Inc.
P.O. Box 781033
Wichita, KS 67278-1033
prairietravelers@yahoo.com
Associated Kansas Organizations
Blue River Rail Trail
OPEN: 9 trail miles
PLANNED: 12 miles (Marysville to Neb. state line.)
Phone: 785-562-5455
Email
blueriverrailtrail.org
Burroughs Creek Trail
OPEN: 1.7 miles (Lawrence)
785-832-3450
parksrec@lawrenceks.org
www.lawrenceks.org
Flint Hills Nature Trail
OPEN: 54 trail miles
PLANNED: 117 miles (Osawatomie, Ottawa, Vassar, Osage City, Council Grove, Herington)
Phone: 913-755-4192
kanzatrails.org
flinthillstrail.org
Haskell Rail Trail
OPEN: 0.8 miles (Lawrence)
785-832-3450
parksrec@lawrenceks.org
lawrenceks.org
Landon Nature Trail
OPEN: 15 trail miles
PLANNED: 38 miles (Topeka, Overbrook, Pomona)
Phone: 785-862-6551
Email
landontrail.org
Hillsboro Trail
OPEN: 1.4 miles (Hillsboro)
Hillsboro Recreation Commission
620-877-7512
Landon Nature Trail
OPEN: 15 trail miles
PLANNED: 38 miles (Topeka, Overbrook, Pomona)
Email
landontrail.org
Lehigh Portland Trails
OPEN: 3 miles, plus 10+ miles single track (Iola)
620-365-8128
info@thriveallencounty.org
lehightrails.org
Marquette Pioneer Trail
OPEN: 2.1 miles (Marquette)
City of Marquette
785-546-2430
Meadowlark Trail
OPEN: 5 MILES
planned: 13 miles (Lindsborg, McPherson)
Phone: 620-241-4687
Email
centralkansastrails.org
Missouri Pacific Recreational Trail
OPEN: 0.5 miles (Iola)
620-365-4990
bikeallencounty.org/trails/mopac-trail/
Prairie Spirit Trail
OPEN:  52 miles (Ottawa to Iola)
www.bikeprairiespirit.com
https://ksoutdoors.com/State-Parks/Locations/Prairie-Spirit-Trail
Prairie Sunset Trail
OPEN: 15 trail miles (Wichita, Goddard, Garden Plain)
Phone: 316-685-4545
Email
prairiesunsettrail.org
Redbud Trail East
OPEN: 7 trail miles (Andover, Augusta)
Planned: 12 MILES
aarti@gmail.com
redbudtrail.org
Redbud Trail West
OPEN: 10 trail miles (Wichita, Andover)
Completed w pavement: 6.5 MILES
Wichita Parks and Recreation
316-268-4628
thoutman@wichita.gov
Sherwin-Williams Trail
OPEN: 0.4 miles
PLANNED: 1.0 miles (Coffeyville)
620-515-1387
South Hutchinson Trail
OPEN: 0.2 miles
PLANNED: 2.9 miles (Hutchinson)
City of South Hutchinson
620-663-7104
Southwind Rail Trail
OPEN: 6.5 miles – begins at the Prairie Spirit Trail trailhead (Iola, Humboldt)
Phone: 620-365-8128
Email
thriveallencounty.org
Sunflower Santa Fe Trail
OPEN: 4 trail miles
PLANNED: 33 miles (McPherson,Galva, Canton, Lehigh, Hillsboro, Marion)
Email
centralkansastrails.org
Välkommen Trail
OPEN: 4.5 m (in Lindsborg)
City of Lindsborg
785-227-3355
lindsborgcity.org
Watco Trail
OPEN: 1.5 miles
PLANNED: 6 miles (Pittsburg)
City of Pittsburg
pittks.org
Western Sky Trail
OPEN: 1 mile
PLANNED: 19 miles (Chanute, Fredonia)
Phone: 620-431-9210
Email
Whistle Stop Trail
OPEN: 1.8 miles (Elkhart)
Elkhart Recreation Commission
620-697-2772
Wildcat Creek Trail
OPEN: 1.4 miles (Manhattan)
Manhattan Parks & Recreation
785-587-2740
Allied Trail Groups
Trails at Kansas state parks and lakes
kansastrailscouncil.org
naturalkansas.org
Natural Kansas
National Trail Resources