2023 Walnut Valley Metric
September 24 @ 8:00 am

-

5:00 pm

$50.00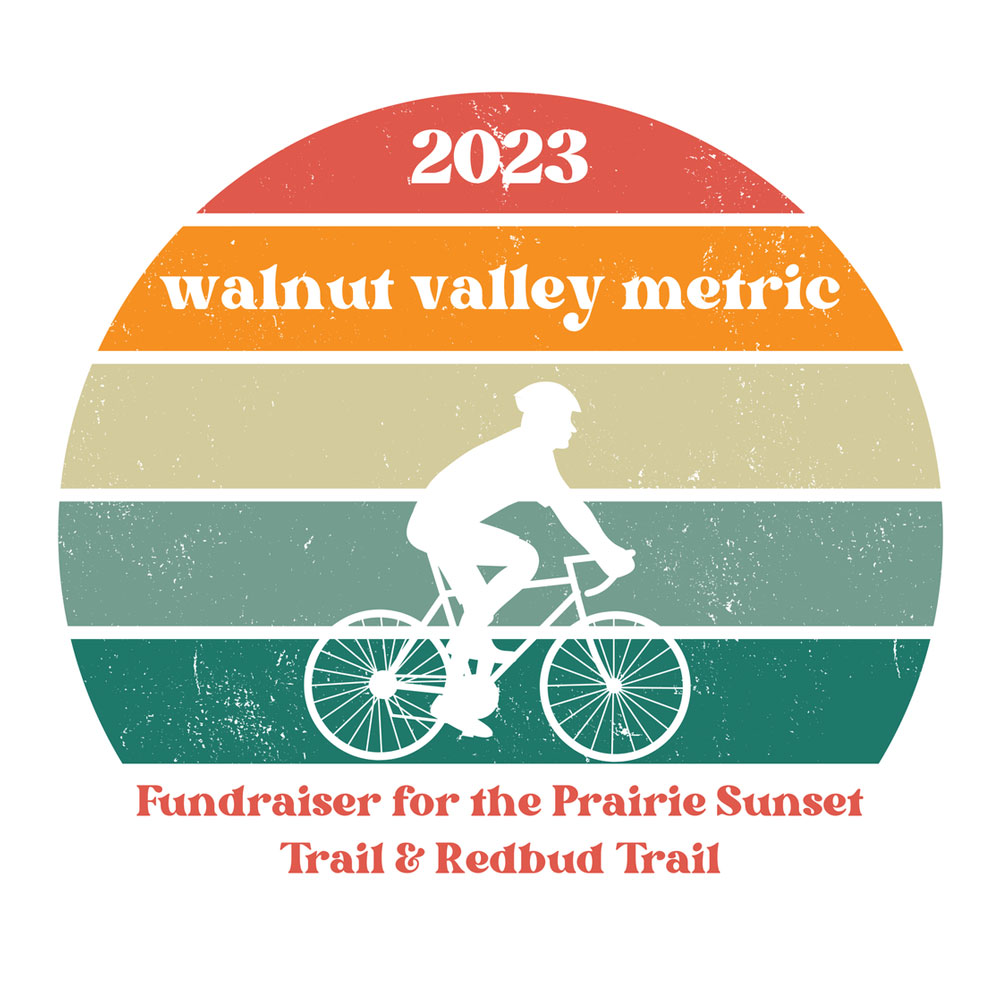 ANNUAL WALNUT VALLEY METRIC
The Walnut Valley Metric routes travel through scenic Cowley County on gently rolling hills and lightly traveled secondary roads. Registration includes SAGs and lunch at Liberty Township School House.
Proceeds from the ride benefit the Prairie Sunset Trail and Redbud Trail.
NOTE: online t-shirt orders end 9/15/23. Limited t-shirts will be available for purchase day of, and orders will be taken at registration if your size is not available.
When: Sunday, September 24, 2023
8:00 a.m.: Registration & Packet Pick-up
9:00 a.m.: Ride begins
Where:
Winfield Recreation Center
624 College St. Winfield, Kansas
Want the route beforehand?
35 miles:   https://ridewithgps.com/routes/28634730
65 miles: https://ridewithgps.com/routes/28634725
42 mile gravel:  https://ridewithgps.com/routes/28694708
Or check out all three! https://ridewithgps.com/events/66226-walnut-valley-metric-2018 
Rest Stops and SAGS
Rest stops will be approximately 15-17 miles apart. Water, fruit, cookies and other snacks will be offered. Restrooms will be available at SAG stops. SAG vehicles with water and mechanical assistance will run the routes. Riders unable to finish will be transported back to Winfield Recreation Center. Lunch will be available for all riders, starting at 10:00 AM.
Thanks to Jimmy John's for helping provide food for lunch and SAG stops.
Your Health & Safety
Be sure your bicycle is in good working order. Arrive early the day of the ride to check your bike and tires.
Other things to remember:
No headphones or ear buds: you need to hear and be aware of those around you.
Carry a tire pump and patch kit.
Fluid intake is very important: Remember to carry water bottles on your bike.
Eat before you are hungry and drink before you are thirsty.
Cyclists should ride not more than two abreast and should not impede the flow of traffic.
Stop for stop signs and red lights.
Cross railroad tracks at a right angle to prevent damage to your bike and possible injury to you. In wet weather, cyclists are encouraged to dismount and walk their bikes across the tracks.
All riders must observe traffic laws.
Help Support Our Local Rails to Trails:
Event organizers Prairie Travelers and the Andover Augusta Rail Trail Initiative are nonprofit, volunteer led organizations that develop, maintain and promote rail trails in the Wichita area. More Information online at:
Prairie Sunset Trail: www.prairiesunsettrail.org
Redbud Trail: https://www.facebook.com/AARTIRedbudTrailEast/
Questions? Call 316-685-4545
Or email: prairietravelers@yahoo.com