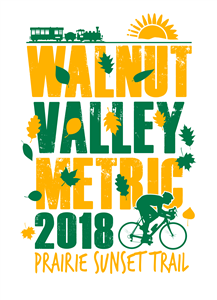 Attention: Mileage options for the metric are: 35 mile or 65 mile road ride OR 42 mile gravel ride
The annual Walnut Valley Metric ride is just about a month away! This popular ride travels through scenic Cowley County on gently rolling hills and lightly traveled secondary roads.
Sunday, Sept. 30, 2018
8 a.m. Check in/Late registration
9 a.m. Ride begins
Winfield Recreation Center
624 College St.
Winfield, Kansas
35 or 65 mile road options
42 mile gravel option
Fee includes rest stops, SAGs, and lunch at Liberty Township Schoolhouse. Register HERE.
All proceeds from the Walnut Valley Metric will be used to expand and maintain the Prairie Sunset Trail!
To volunteer, email prairietravelers@yahoo.com
See you next month!
Prairie Travelers